Education Project Of The Year As MENA Winner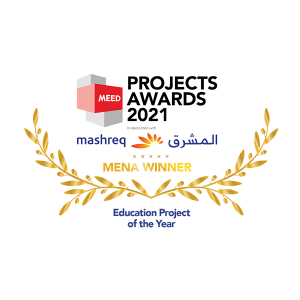 College of Life Sciences Kuwait University wins Education Project of the Year as MENA Winner at one of the region's biggest infrastructure awards programme
Dubai, 8th of December 2021 – College of Life Sciences KU, designed by CambridgeSeven in Association with Gulf Consult, has been selected as the MENA winner for Kuwait in the Education Project of the Year category of this year's 2021 MEED Projects Awards, in association with Mashreq.
"We are extremely delighted and honored that the College of Life Sciences at Sabah Al Salem Kuwait University City is the 2021 MENA Winner, Education Project of the Year, at the MEED Projects Awards. This award is a great testimony to the innovation and diligence we aspire to achieve in all our projects. The project not only meets functional and spatial requirements, but also provides an attractive environment for students to learn and socialize". – Eng. Ubed Arain, CEO and MD, Dar Gulf Consult
The 800,000 sf College of Life Sciences at Sabah Al-Salem University City is conceived as an ephemeral container designed to integrate art, environment, and information technology into a collaborative, interactive learning setting. The college is designed for 3500 students and professors divided between the Female and Male Campuses.
"This year's MENA Winners are a testament to the regional infrastructure community's resilience, commitment to excellence and innovation. We are proud and delighted to announce nearly 20 projects claimed winners, 8 projects claimed highly commended, 8 innovation & sustainability medals across 20 categories representing countries from across the Middle East and North Africa region at the 2021 MEED Projects Awards in association with Mashreq. Congratulations to all our winners," said Sonia Kerrigan, Group Commercial Director, MEED.
The awards ceremony has brought together the leaders of the infrastructure industry from across the MENA region to celebrate their outstanding successes and contributions despite the numerous challenges faced over the last year with the COVID-19 pandemic.
The complete list of the 2021 MEED Projects Awards in association with Mashreq winners and finalists are available on the awards website www.projects-awards.meed.com
Commenting about the award ceremony & winners this year, Arun Mathur, Senior vice-president and head of contracting finance added "Given our long-term partnership and common goals of celebrating success, Mashreq is extremely proud to continue the incredible journey of supporting the MEED Projects Awards. The 11th edition of the awards is all the more commendable with its expansion to bring in nominees from across the Middle East and North Africa region. The quality and innovative nature of this edition's projects have once again proven that the infrastructure industry will remain the cornerstone for the region's ambitious, forward-looking plans."